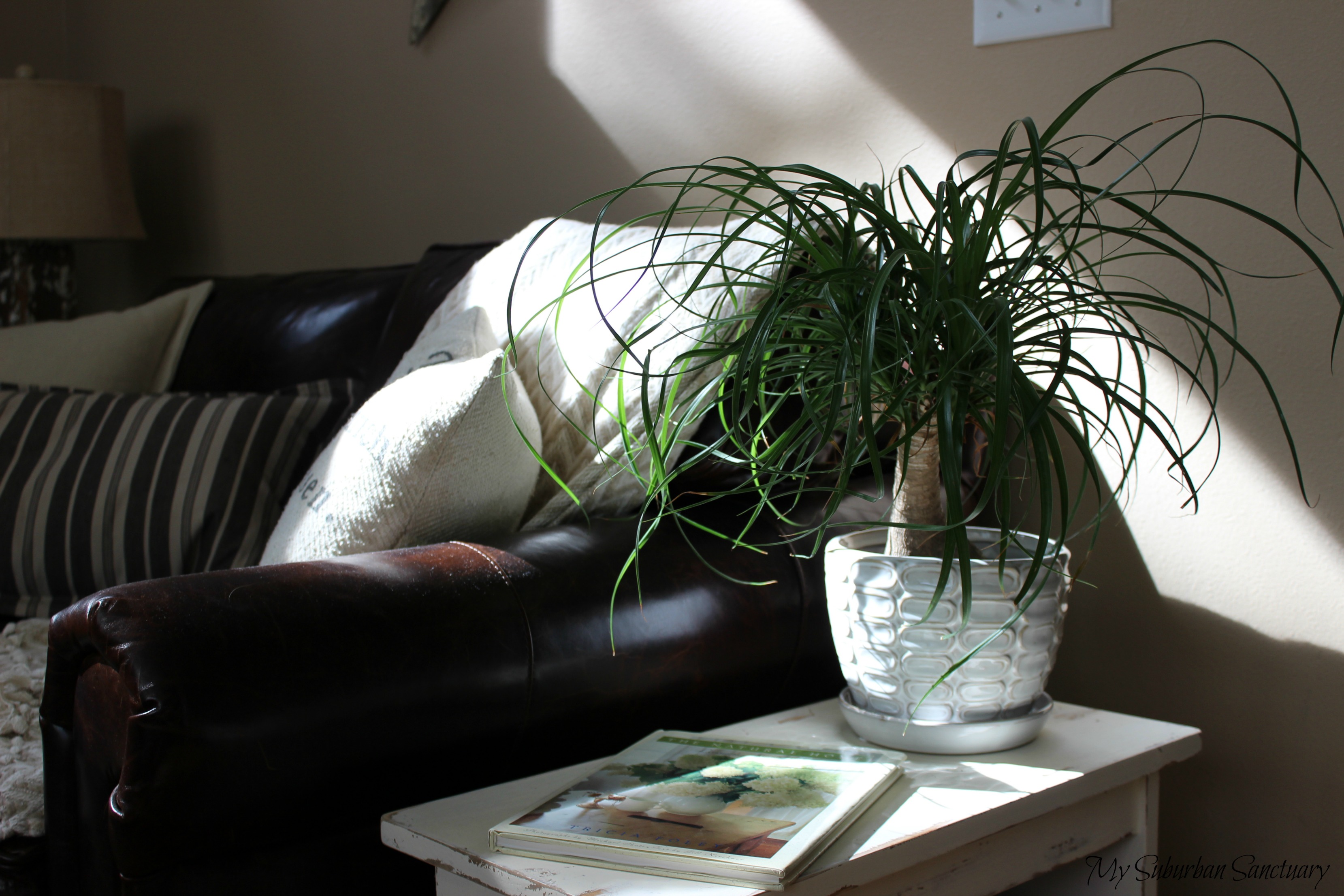 Part 2 of the (almost) goof proof plant series introduces the Ponytail Palm, "Beaucarnea Recurvata".  Not really a palm at all, Ponytails are members of the Lilacea (Lily) family and are also known as "Elephant Foot Palm" or sometimes "Bottle Palm".  True to its common name, the leaves of the ponytail sprout from the top of the plant and it looks much like the ponytail I sport on the top of my head while doing chores…. only prettier.  The elephant foot reference is because its trunk ends in a textured, almost wrinkled looking bulb, similar to an elephant's foot,  where water is stored. It thrives in warm, dry soil locations and likes bright light.  In its native Mexico it can grow to almost 20 feet outdoors but is easily kept to a mature size of about three feet indoors. Although it likes warmth, it can take lower temperatures in winter. (50 degrees is about the limit to keep it thriving.)
Ponytail Palm is one of my favorites for a few reasons;  1) It's beautiful. The weeping growth that occurs as the plant gets older is lovely  2) it's slow growing which means I don't have to replace it frequently with a smaller plant as I do some that have fast growth rate.  3) It can be pruned to keep it small.  And 4)  It's low maintenance and forgiving of benign neglect. Yay. I don't have to nurture, baby or otherwise worry about it, I'm into benign neglect. I don't like fussy and needy plants.
As usual, there are some growing tips:
Ponytails like being somewhat root bound. No need to re-pot unless the roots have broken through your plastic pot. Which happens, so use a clay or glazed pot. (I keep mine in the plastic nursery pot it came in for ease of watering, but I hide it with a pretty glazed pot.) If you decide to re-pot, use a pot that's only an inch or so bigger around as well as deeper. Use a fast draining soil, cactus soil mixes are ideal.
Water only when the soil is dry and water deeply, then leave it alone for at least a week, sometimes longer. I water mine about once a month. I submerge the whole plant, plastic pot and all, in a bucket of water for less than a minute, a few seconds really. Then I let it drain and pop the whole thing back in its pretty glazed pot.  This technique means I don't have to guess or worry about over watering in the glazed pot. I can see the water draining out of the plastic nursery pot it came in and once drained it goes back in its glazed container, plastic pot as well. Always check the soil of any plant before watering! If you read Part 1 of the plant series on the blog, you'll already know the technical term and tool to use to check the soil to see if it needs watered. Your finger. In the pot. As in, stick your finger in the soil to about an inch. If it's dry, water, if it's moist don't. Truly I am a master of of all things technical. Mist your plant once a week or so to increase humidity if your house, like mine, is dry from air conditioning in the summer or heat during winter.
Bright light is a must. So put it somewhere where it will get several hours of sunlight everyday. Fertilize only twice a year during the growing season (in summer for most of us) with a 50/50 mix of  liquid fertilizer and water.
TROUBLE SHOOTING:
PESTS.  Although it's usually pest free, the Ponytail does sometimes become a victim of either scale or spider mites. Scale look like waxy bumps on the leaves of the plant. Spider mites are tiny little red insects that will leave small telltale webs on the leaves. A light spray of insecticidal soap or application of neem oil will control both. Dead scale are easily removed by scraping them off the leaves with your fingernail. Use a damp cotton swab to remove the webs of spider mites.
YELLOW LEAVES.  Too much water will result in yellow leaves and a soft trunk bulb and shaft. Check to see if your plant's roots are rotting or if the soil smells bad. If so, remove it from the pot, let the plant completely dry out, clean your pot and sterilize with a weak solution of bleach and water, rinse it well, dry it, and use new soil. Replant and water once. Then begin again, monitoring your water use.
SHRIVELED BROWN LEAVES,  or a desiccated (dried and shriveled) trunk means you aren't watering enough. Soak the plant for a few minutes in room temperature water and let drain. Water more often, but check the soil to make sure you don't over water.
BROWN LEAF TIPS. Severe browning of leaf tips or entire leaves is generally due to not enough water or lack of humidity or 2) Too much fertilizer, too often, or 3) water that is chlorinated or has excess minerals. If you have treated (city or county) water and brown leaf tips, switch to spring water and mist your leaves to increase humidity.  4) Brown tips can also occur as a matter of age. Trim the brown tips off, once brown they will never be green again. Use a dedicated pair of shearing/pruning shears. Clean your shears with alcohol after using. You can see that there are a few brown tips on the leaves in my pictures, and if you look closely you'll see one or two small dead, brown leaves. This is normal. I haven't trimmed the tips of my plants since last spring. Because I'm lazy. I might trim them in time for our annual Super Bowl party. So that everyone can admire how pretty it is and marvel at my plant parenting skills. Probably not, I'll be tired from cleaning my baseboards so that everyone can marvel at my housekeeping skills instead. I mean, I have my priorities.
Give the Ponytail Palm a try, it's a beautiful, graceful plant that you can enjoy for years. It adds life to any space and really isn't fussy. It's almost goof proof.
Save
Save
Save
Save
Save
Save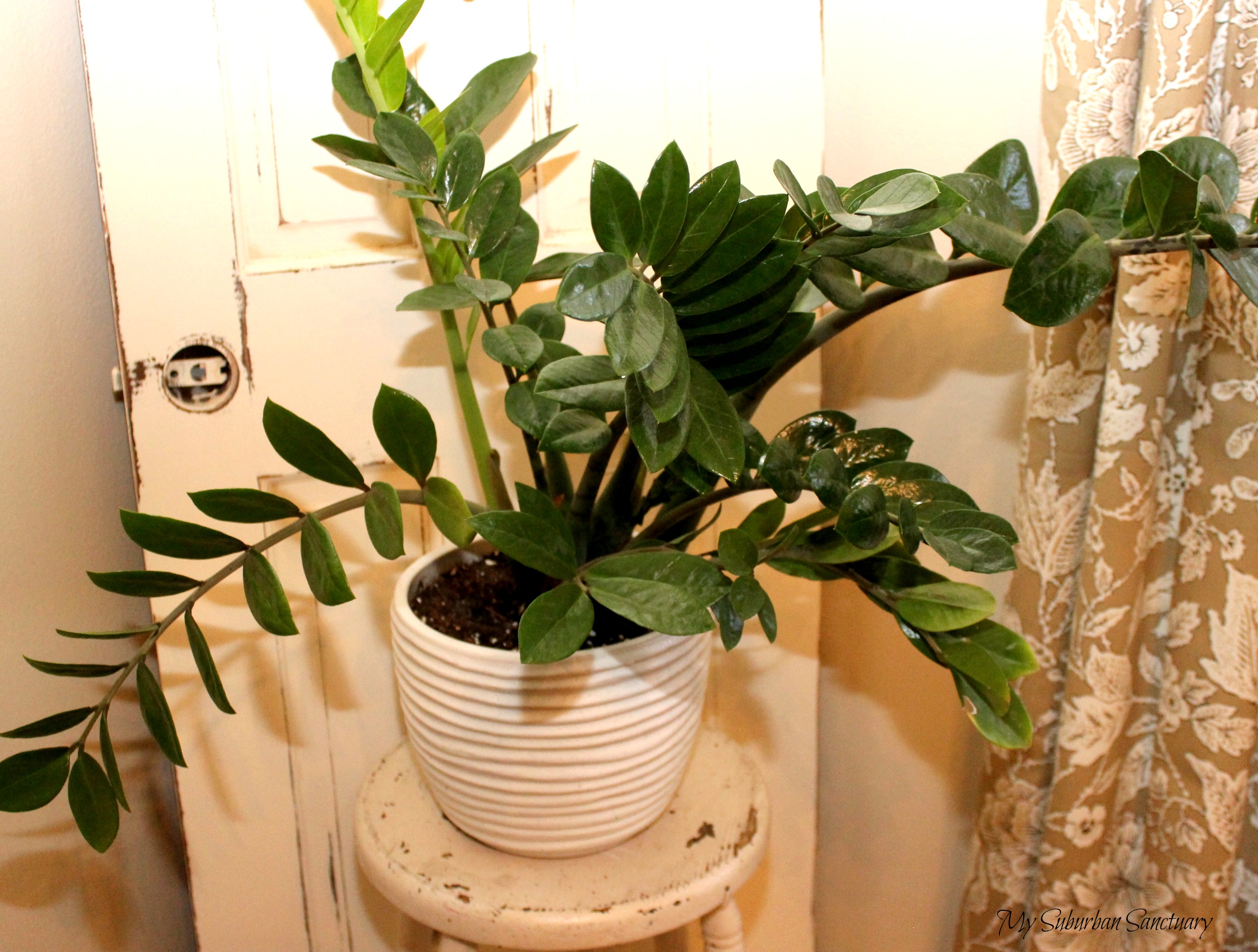 I love adding plants as decor in my home. House plants add life, along with texture and color. An otherwise flat, dull room gains energy and comes to life with that addition of a bit of green. Today I'm going to write about one of  my  favorite forgiving house plants. One that almost anyone can grow, even you brown thumbers. You know who you are, so pay careful attention.
NUMBER ONE on my easy to grow plant list is the ZZ plant, Zamioculos Zamiifolia, a mouthful if there ever was one, hence ZZ.  A native of the Southeast coast of Africa, in the Tanzania and Zanzibar areas, ZZ is one of those plants that looks good in any setting from contemporary to farmhouse. Plant it a silver cylinder pot and it becomes a modern art piece all its own, but pop one in a galvanized bucket and the look is dramatically changed to one that's informal. Stems can grow up to about three feet and begin to arch as they grow making the plant look even bigger.  ZZ likes bright indirect light (not directly in front of a window), but also does very well in dim light. Plant your ZZ in a pot that has built-in drainage, or one that has a saucer so that excess water drains away. Forget the adding gravel to the bottom concept. The pot will still hold water and the plant's roots will still sit in it, just not in the soil. So use a light soil mix and a pot that drains. ZZ likes to be slightly root bound and will grow happily in the same pot for a couple of years. If you re-pot, use a pot that is only an inch or two larger. ZZ plant is poisonous if ingested, so be careful using this plant around pets that like to nibble or chew. Pay close attention to toddlers who might be attracted to its thick leaves.
Regular watering isn't required, in fact ZZ is one of those plants that thrive on benign neglect. Water is stored in its leaves, which are thick, bright green and waxy, and in the thick stems. Water only about once a month. I check my plants weekly, watering needs can change during either the growing or dormant seasons for different plants. Checking means you will water when your plant needs it and not when you think it does. Water the ZZ again when you notice the soil is dry to below one inch. Use the technical, scientific method of determining soil moisture by sticking your finger in the soil, if it's dry below an inch or so, water, if still damp, don't water. (That's as scientific as I get.)
Dust its leaves periodically with a soft, plain water dampened cloth (do this for all your plants) and check for pests. ZZ plants are hardy but occasionally get spider mites or  scale. If you see tiny reddish bugs or a small web in between leaves, use a mild insecticidal soap (readily available at big box stores). Scale looks like waxy bumps usually on the underside of the leaves. You can also use the insecticidal soap mixture, but stubborn scale infestations may require applications of Neem Oil.  Follow the package directions for both treatments. Scrape off dead scale with a finger nail, gently so that you don't scar the leaves.
Curling leaves, yellow or leaning stems means the light is too bright and your ZZ is trying to move away from it. Change it's location to one that's a bit farther away from the light source or move it to a different location with dimmer light.  If there are yellow or brown spots on the leaves it's getting sunburned and needs to be moved immediately.  ZZ will die, one stem at a time, from over watering, if you notice a withering stem, or one with limp leaves, take the whole plant out of the pot and check to make sure the roots aren't wet and rotting. Remove the rotten stem root and all , clean the pot and replace the soil. Re-pot and water once. Let the plant soil dry as recommended before watering again.
Try a Zamioculos Zamiifolia even if you've murdered every other plant you've ever brought home. This one will surprise you.  (I'm optimistic.)  If you kill it, there is no hope for you so just get your plants from Ikea, you can't kill the never-alive-to-begin-with.
Save
Save
Save
Save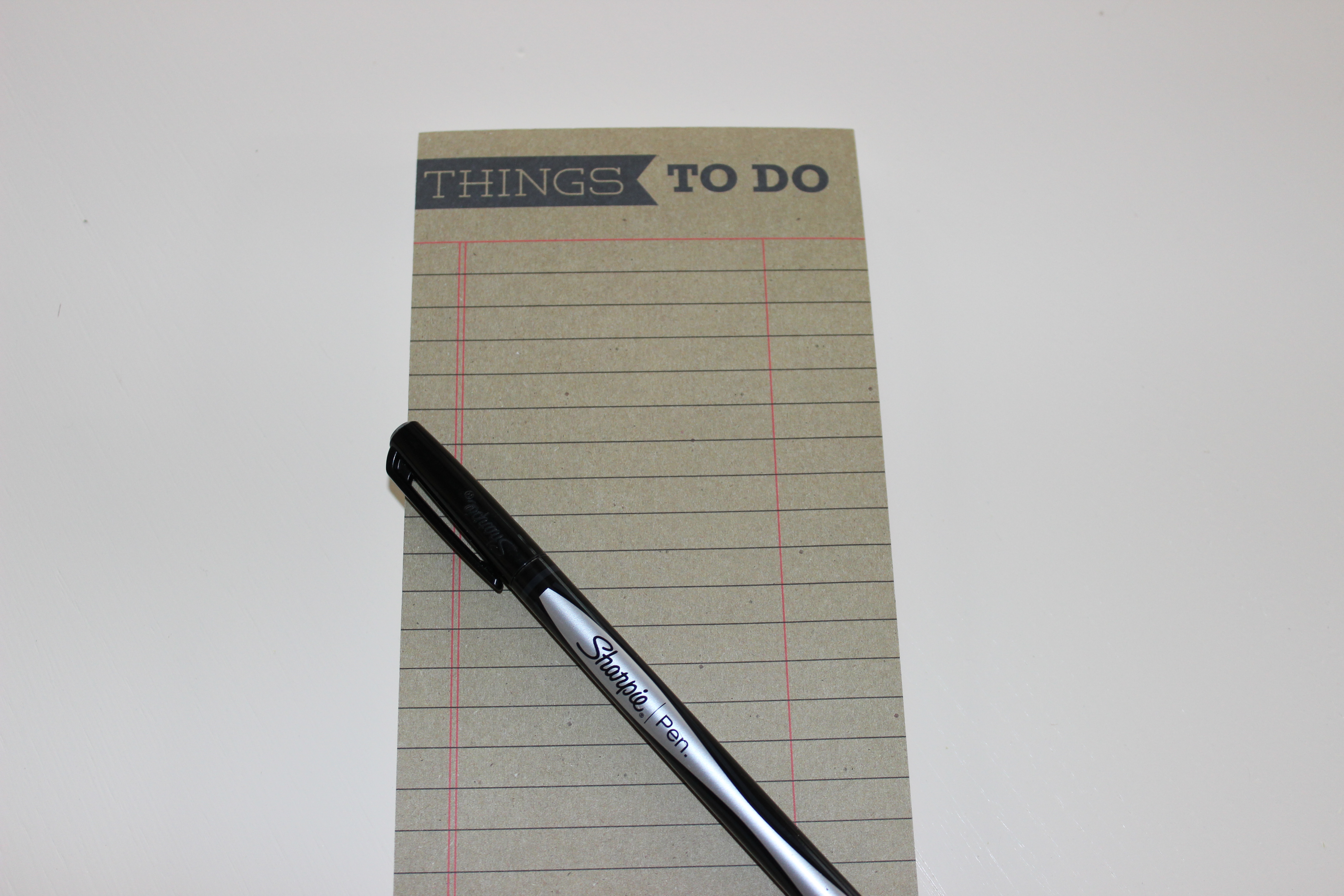 Here's to a new year. Shout out to a blank slate. A new year to right old wrongs, to begin anew, to try new things, to………. well, you get it….. change.
Change can be frightening or it can be energizing. No one likes to be forced to change, it invalidates us, frightens us, makes us angry, but when we are the ones to enact change, it becomes exciting, energizing, hopeful. And nothing offers hope like the beginning of a new year to change the things we didn't like about the previous one. I'm here to help. That's what bloggers do. We help. Help define decorating styles. Help with learning how to refinish furniture.  Help with decorating ideas and tips and tricks. This post isn't any of that.
But I do want to offer some tried and true tips in getting this new year off to a great start. So here's my list:
SLOW DOWN As in, savor the moments. Enjoy each and every day for what it brings. Don't dwell on the future.  Dwell in the present.
GET ENOUGH SLEEP. Learn techniques to combat insomnia, to help you fall asleep faster. Make your bedroom a sanctuary. Declare it a technology free zone. And get rid of exercise equipment, the bedroom is for sleeping and relaxing, not building muscles. If your office is in your bedroom, shut off the computer. Invest in pretty baskets or containers to store files, get a desk that is pleasing to the eye, no plywood on blocks or college dorm furniture. You're past that. (Unless you're in college and then at least make it pretty and personal). Get a real desk. Keep a treasured photo on it, a pretty lamp, flowers. A functional area can also be beautiful. The two are not mutually exclusive. Clear off your desk before bed EVERY night. Buy the best, most luxurious sheets you can afford. Invest in a  new mattress if one is needed. Install a sound system and play relaxation music. Educate yourself on what helps someone fall asleep.  Don't go to bed in an emotional turmoil (this is time tested advice). Sleep is essential to life. Make sure getting sleep is a priority.
LAUGH MORE. Take pleasure in the absurd. Watch comedies regularly. Read books by authors who make you laugh. (I highly recommend Janet Evanovich.)  Cultivate funny friends, hang out with those who make you laugh. Stop taking yourself so seriously.
MAKE LISTS.  Yes, I know this sounds lame, but trust me, it works. It helps quiet your mind. It will help keep you organized. Go old school and keep a planner that you….  gasp! WRITE in. Or if you are a diehard techie, install an app on your phone that includes a calendar and a note taker. Before bed, prioritize your to-do list by day, week or month. Making that list frees the chaos from your mind and will help with the afore mentioned; get enough sleep.
DO MUNDANE OR DREADED CHORES FIRST. Why????? Why oh, why must I mop the floors, clean the toilets, paint that room, make that phone call, (insert whatever you dread) FIRST? Because it will fill you with an immediate sense of accomplishment and any chore after that will be a piece of cake. Maybe not cake, but it will be easier. You will go through your list of things without a cloud of dread hanging over your head because the worst chore is DONE! Woot!
GET RID OF THE CLUTTER ON YOUR DESK, in your closets, your pantry….in fact, DECLUTTER period. Studies have shown that cluttered spaces add to feelings of depression. I always say, a cluttered home breeds a cluttered mind. I don't know about you, but I don't like my mind cluttered more than usual. It's already cluttered with decorating ideas. So, make a plan to do one area at a time. Tackle the junk drawer first, that will inspire you to clean off your closet floor, (put those cute, expensive shoes away!) which will inspire you to clean out all those containers of mystery left overs in the frig, and in turn will energize you to throw out expired spices, cosmetics and boxes of expired cake mixes from the pantry. And on and on you'll go and WOWZER! Soon you'll have a clutter free home. I can't help with the decorating thoughts swirling around your brain, but at least they'll be swirling in a brain with a clean, uncluttered house.
GET RID OF EXPIRED MEDICINES. Call your local pharmacy and find out where your nearest medicine disposal site is. DO NOT THROW THESE IN THE TOILET OR DOWN A SINK. They end up in the water system. Instead CRUSH them and put them in a container and place them in the trash. Better to go to the landfill than end up in the water system.
CLEAN OUT YOUR EMAIL, TEXTS AND DIGITAL PHOTOS. Delete fuzzy, out of focus shots or duplicates. Keep only the best and then sort those into digital files with titles so you can always find that stupendous photo of your dog in all its cuteness.
START PREPARING TO FILE YOUR TAXES. If you are like me and hang on to 100 year old receipts and have 20 years of bank statements, now it the time to clean out your files. Keep only 7 years worth of paper statements. Receipts older than 30 days go into the trash. Have a file for tax prep.
STOP PROCRASTINATING. Putting off doing things you need to do doesn't make them pleasant, it just creates dread and guilt. (see do mundane chores first above)
BE ON TIME. Don't be that friend who is always late. It's inconsiderate and shows a lack of respect. If you know you need 45 minutes to get ready to leave, start getting ready 60 minutes ahead of time so that you can find your keys, your purse, whatever. Allow for traffic. Be the one who gets there with time to spare. Relax while waiting for your appointment, friend, etc. Catch up on emails, texts, or read something engaging.
ENGAGE IN SOME PHYSICAL ACTIVITY. Just take a walk. Daily.
BE A GOOD LISTENER. PRACTICE EMPATHY.
YOU DON'T HAVE TO WIN EVERY ARGUMENT (WHAT?? but I need to my ugly twin says) Don't listen to that twin, listen to the pretty one, the one you are going to be.
GET RID OF TOXIC PEOPLE. This should be a no-brainer. Sadly, most of us hang on to people and relationships far past their expiration dates. Get rid of those people.
LEARN TO SAY NO. There is no rule that says you have to be a super hero. Make this the year to carve out more time to just be be YOU.
READ A BOOK. At least once a month, put down your phone, step away from the computer and immerse yourself in other worlds.
CHOOSE A NEW ARTIST TO EXPLORE IN AN UNEXPECTED MUSIC GENRE. Every month. By the end of 2017 you'll have added a lot of previously unexplored audio beauty to your life. Music does soothe the soul and all that. (Your kids or Grandkids thinking you're cool is a neat side effect.)
GET INVOLVED. Choose a cause you're interested in. Volunteer. Help make the world a better place, even if that world is limited to your local town.
BECOME PASSIONATE about life, about the world we live in. Become a steward. Nurture a belief that every thing, every form of life in this world matters.
PRACTICE KINDNESS. Spread it. Nurture it. Make this world better by the simple act of being kind. Let's make 2017 the year of kindness.
That's my survival guide, my primer on what to do in 2017. I hope you add to it.  Now go forth and conquer. It's a new year!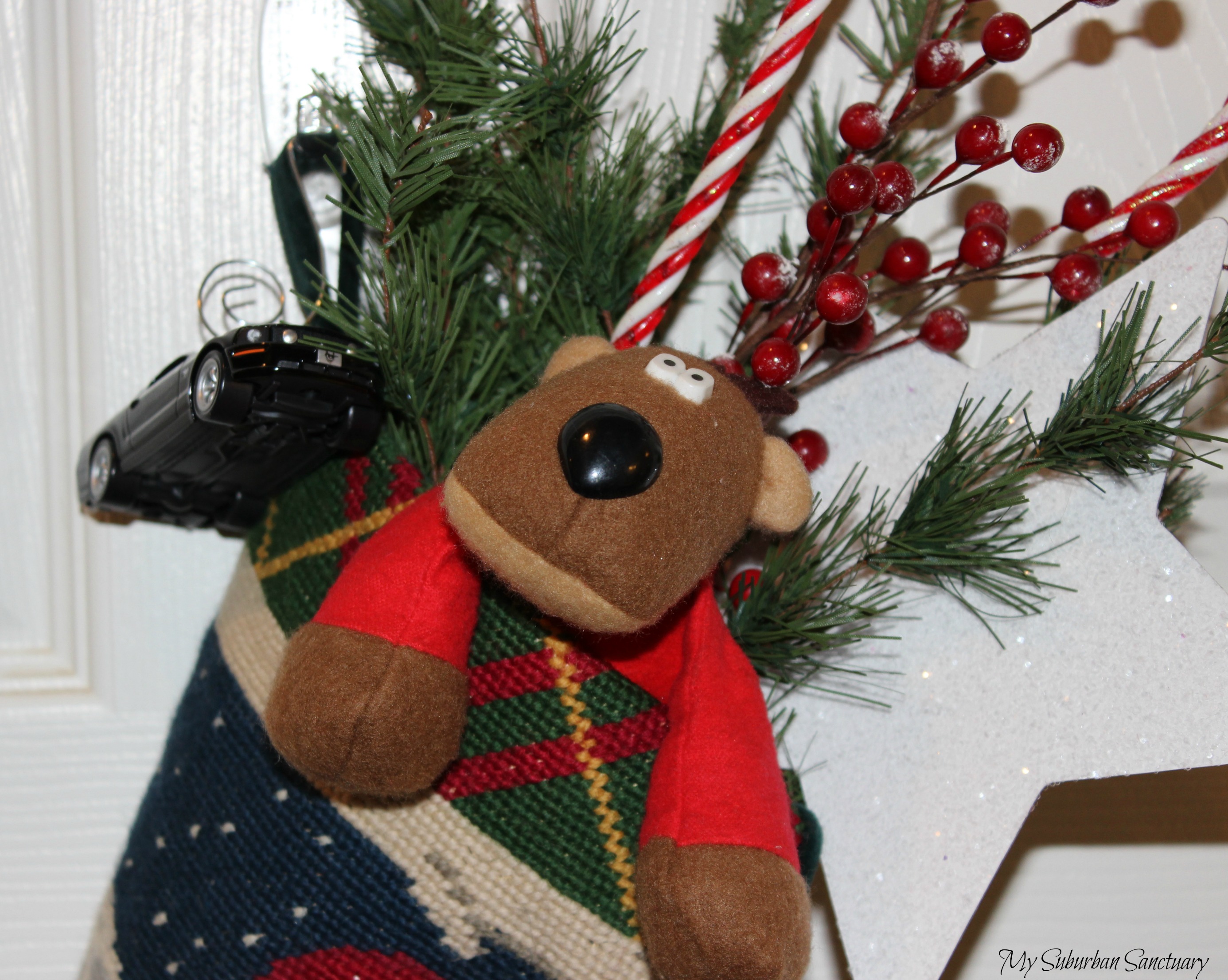 Every family has traditions. Things that are done the same way, year after year. Things that are counted on. Traditions provide a foundation and a feeling of coming home. Of safety. And happiness.  Of continuity. Maybe it's the way the mantel is decorated. Or the ornaments remain the same each year. Or it's the cookies that Grandma always made, still being made long after Grandma is gone. Or perhaps it's Lasagne for Christmas dinner. But what if a Tradition doesn't "fit" anymore? Becomes too expensive, too "big" or too difficult? Is it OK to change a tradition?
In my case, our tradition was Christmas Stockings. I was a single mother. I didn't always have enough money to buy a tree. I sometimes put red ribbon bows and candy canes on a Ficus and called it "Our Charley Brown" tree.  But the one thing I had without fail was Christmas stockings. Mine rarely had anything in it. It was more for show. But I always made sure my son's was stuffed with fun things. Matchbox cars when he was young. Bubbles. New crayons. And a new ornament. (which remains a tradition).  As I'm sure all kids do, he begged to open his gifts on Christmas Eve. He was filled with excitement, his eyes big at the sight of boxes wrapped and piled under the tree. He almost vibrated with excitement. I had a rule, no gift opening til Christmas morning. Despite the groans and moans and the, "Please, Mommie?" I stuck to that rule. Except. (You knew there was going to be an "except", didn't you??) OK, ONE gift on Christmas Eve and we'd get our Christmas stockings to see what was in them. He was well past the age of believing in Santa so there was no fake story about the fat one coming early. Those stockings became our "thing." I put a lot of time and energy and money in being creative as he got older. The gifts became more elaborate and more expensive. Gift cards to favorite restaurants or to the zoo or some outing to do together. Always a new ornament. And then the teen years hit. So there was after shave and young man things. I think he loved opening the stocking more than anything else.
Enter a marriage and instant siblings. The stocking tradition continued well into adulthood. I was rapidly spending the bulk of our Christmas budget stuffing those stockings. So one year,  I decided to go another route. This was the year the whole family was going to be together. All the siblings. My husband was home (He frequently traveled on holidays), the Grandchildren were here. It was a perfect time to introduce a new tradition. I made gift bags. BAGS. I thought I was being clever. I could put larger gifts inside, the bags held more. Brilliant.  Not so fast, Christmas Mom.
My son walked into the family room and saw no stockings hung by the chimney with care. In fact there were no stockings to be seen! He promptly grabbed my attention by quietly bellowing, "WHERE ARE THE STOCKINGS????" "WE DON'T HAVE STOCKINGS??" I saw him looking frantically around the room, searching for his stocking. By this time, the rest of the group became restless and I could hear murmurings……"Did Mom forget the stockings?" "Is Mom OK?" "What's going on?" You know, concerned that I'd had some sort of mental lapse. Which, as it turns out I did. What was I thinking?  I explained that this year I didn't do stockings, I did gift bags!!! Woot!  There were no return Woots. My son, drew himself up to his full height, and announced to no one in particular, "This is unacceptable. UNACCEPTABLE". (In case I didn't hear him the first time.)  "What do you mean, gift bags?? GIFT BAGS??" And he stomped off. OK, maybe not stomped exactly. But very firmly put one foot in front of the other and left the room. Dead silence. I stood for a few seconds, in a mental hamster-on-a-wheel moment, searching my brain for a solution to this calamity. Did I have time to get the stockings from the attic, stuff them, bring them out later, and yell, "SURPRISE! ONLY KIDDING, HERE ARE YOUR STUPID STOCKINGS!" Nope, not happening.
I honestly didn't consider his reaction. I should have known. We'd moved around quite a bit when he was young and he hung on to things that were familiar. I suddenly realized the stocking meant more than just stuff for fun, it was one of his few remaining touchstones, a symbol that while everything else in his life had changed, this one thing, his Christmas stocking remained. We went on with Christmas that day, it was filled with fun and great food, music, the kids tussling, me yelling, "Take it outside!" and "Don't slam the door!"  The Grandkids overwhelmed with gifts and too many cookies, protesting the taking of pictures, hanging out with their beloved Aunts and Uncles and the rest of us.
It was a great, big, typical, noisy, messy holiday. And I loved it. I was the subject of affectionate scorn from every.single.member.of.my.family. In good fun, and it would become another family joke, told the next year and the year after that. My son, that sweet, goofy, big hearted prankster, never let me forget. He continued to shoot me the stink eye all day, (lovingly, accompanied by his grin, but the stink eye nonetheless), and I could hear him muttering in my direction all weekend long. I couldn't hear all of it, but I caught enough of, "Unacceptable, and "For petes sake" and there was the odd eye roll. Whatever. I got it. I got it already! Stockings were hung by the chimney with care every year after that. Stuffed to the tops, overflowing. Bonus. There were also gift bags for the things that were too large for the stockings.
My son was killed in an accident three years after that Christmas. I don't do stockings anymore. Except his. His is hung every year. His last, and favorite Hallmark ornament, a Mustang, hangs from it. A little stuffed reindeer we got from McDonalds during his teen years is in it. This year it hangs from the door to the room he stayed in whenever he came home. That stocking means more now than ever. It doesn't hold gifts anymore, it holds memories. Years of memories. It is overflowing.
Save
Save
Save
Save
Save