Hi friends!
Y'all know by now that I like to paint things. I'll throw a coat of paint on almost anything, without an invitation. If it's in our home, it's probably been painted multiple times. I have MCPD…Multiple Coats of Paint Disorder. It's a real disorder, I found it on the internet when I was researching my symptoms….
I decided to paint my antique icebox. Gasp!! If you believe that every vintage piece should remain unpainted, stop reading right now. I don't want to be responsible for raising your blood pressure.
I said more than once I would never paint it. But……………well times change as they say, and I changed my mind about this old piece one day and decided it needed to be white. In my defense, it had already been refinished a couple of times so the "value" of it was already diminished. And truly, the value of anything is only what someone will pay for it.
My ice box had damage from rot on one of the rear legs, didn't have all the original parts inside, had a large hole in the galvanized cladding inside, and had broken  and lifted veneer, which could not be repaired. So painting it would be a mercy. The wood was dry from years of hard use, I'd waxed it about 20 years ago with Briwax and while that gave it a soft luster, I guess in the end, I just wanted a different look.
How is it I can find no "before" photos?? And I didn't take any before we took the doors off. I have a hard time remembering the photo thing. So just imagine the ice box with brown doors.
I decided to use Krylon Chalky Paint in a spray. Colonial Ivory seemed to be the logical choice. I prepped the ice box by removing the hardware, lightly sanding, inserted cardboard cut to fit the door openings, (to protect the inside from overspray) and wiped it down to remove sanding dust. When the prep was done the change began… I'm always a little nervous and excited as the first coat of paint goes on.
I do not recommend using a new product on a large important piece of furniture. I've used spray paint for years and am usually successful. I started this project with high hopes, I wanted a smooth matte finish and I'd successfully used this paint on a frame, so I didn't think twice. However…….it pays to read the information on every can of paint. Especially when using it for the first time on something important.
I did.not.do.that. Rooky mistake. The project got off to a great start. I applied several thin coats with an hour between each coat. On the very LAST coat, (why it is always the last one that goes sideways????) I guess I failed to shake the can enough to get it mixed properly, the paint came out darker and like a fine powder. It was as if I'd sprayed cornmeal on it!! OMG!!! and other words of distress!!! Words that shall not be published.  I was not happy. I was horrified. I had to let it dry. And then sand it down to try to smooth it. All that careful painting only to have my project ruined at the last moment. I was in tears.
I read the info on the can, it recommends shaking vigorously for a full minute (of course you really should shake it another minute or so). And to shake during painting. I know this part. I shake cans of paint vigorously. What I didn't do was shake it periodically during painting. I don't know if I was just in a hurry or was excited because it was going so well.  The range of temps was also an eye opener. Turns out you aren't supposed to paint in 90+ degree weather with humidity to match!
Good grief. So humiliated and head hanging low, I sanded and sanded some more starting with 150 grit and then using 120, then 220. And finally with 400. It didn't take all the dark shading off and it still feels rough to touch, but it's done. I'll wait a couple of weeks and then add wax, at least to the top. I bought a small buffer to make it easier on my neck and shoulders. I'll live.
So the verdict??? Krylon Chalky Spray Paint gets a 7 our of 10 stars from me. It will leave a nice smooth matte finish in perfect weather conditions. Which I rarely have. Humidity is a beast here and the temps seem to get hotter every year.  If I waited to paint when the temps are between 65 and 85 degrees with relative humidity I'd only be able to paint in November through February. Um…..that ain't happenin. I can't wait for perfect weather to spray paint something. I could…..but I won't. So there's that.
I do think this paint is great for small projects. I won't use it again on larger pieces. Even though the bad finish was due to operator error, and ultimately the weather conditions, the cost of buying multiple cans of paint isn't worth it.
Remember: Reading is Fundamental
Lesson learned. Read the directions. All of them. Pay attention to the recommended weather conditions. Shake that can, then shake it again. And shake it during painting. I spoke to a Krylon rep who said shaking the can is even more important when using chalk type paint. The paint is thicker and the ingredients sink to the bottom, so shaking is mandatory throughout the painting process. The powder that was sprayed at the end of my project? That was the ingredient that gives that matte  finish. By not shaking my can often enough or hard enough the paint and other ingredients didn't get mixed properly. Duh. Well, I know that NOW……

Create your sanctuary one spray paint can at a time. Create the home you see in your heart, no matter where you live.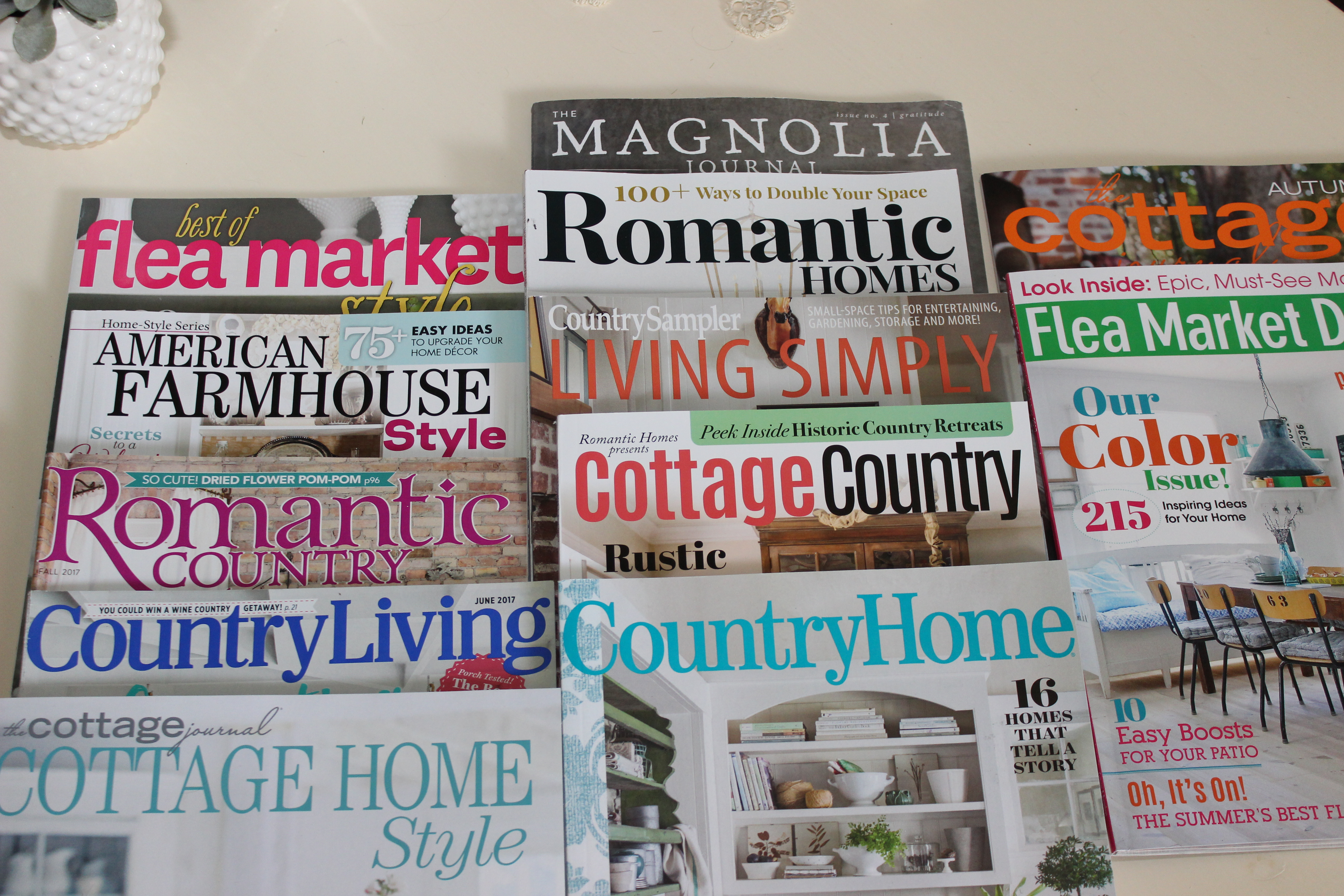 I posted a photo of a bunch of my magazines recently in three of the Facebook groups I'm in, and judging from the big response, I'd have to answer my own question with a resounding, YES! Magazines are still relevant. I have a shameful secret, I'm a magaholic. I have purchased magazines for years. I still have some  from the 90's. I do get rid of old ones  every now and then. When we moved here in 1999, I brought along two cases of magazines. Mr B, ever the brave soul, gently suggested that maybe it was time to get rid of some…..WHAT????? I immediately got sweaty and there was a strange buzzing in my ears. Get rid of them???? Um, no. I use them. "For what?"   "I rip my favorite pages out to keep in a folder for future inspiration."  "Well, if those are your favorite pages and you've ripped them out, why are you keeping a magazine with missing pages?"  STOP CONFUSING ME!!" I keep them because my style might change and I might find future inspiration among the pages I didn't rip out." sigh. I clearly have some issues.
I do donate some, once in awhile, but because I buy every decorating/design magazine published anywhere on a monthly basis, I have LOTS of inspiration. I keep mine in vintage wood boxes, in stacks near my reading chair and in stacks on a little table by the sofa. I read them, then I reread them, then I re-reread them. I tear out pages. And on it goes.
Some of the commenters in the Facebook groups, gently reminded me that I could read them for free in the library. Um, yes, I am familiar with the concept of the library, I've actually borrowed books from one. But magazines???? Reading magazines at the Library means I have to leave them there. GASP! I can.not.do.that. I must acquire them. Hold them. Browse through them. Flip through the pages. Tear some out.
The other suggestion was going with on-line subscriptions to end  hoarding preserving my favorites. I can't do that either. For the same reason I  very seldom use my Kindle. I love actual books, the feel of the pages, even the way they are bound. I love that books can be shared, donated and gifted.
My Kindle doesn't give me that same experience. Mr B is now totally Kindle when it comes to reading. I offer him a new book once I've finished and the answer is "no, I'm good." geez. So my new, just read book goes in the basket I keep in the guest room for guests to take. I buy bags of books at Goodwill and Salvation Army and thrift stores. Reading allows me to visit far away places without leaving the comfort of my home. Then I donate them. You can't do that with a Kindle. Just sayin.
I love magazines the same way. For me there is nothing like sitting in my chair with an icy Barqs perusing the latest edition of Country Living, or American Farmhouse or Flea Market Style. Besides I can't tear pages from my Kindle.
Pinterest? Yep, I do Pinterest. I have scads of boards. I have secret boards for friends and clients. I have a secret board for things I want for my home. I have lots of public boards for lots of subjects. But I cannot break my habit of buying magazines. And they are expensive. I realize I am spending money on something I could easily have in another format, for less money. Then I'd have more money to spend on actual decor. But, alas, my addiction keeps me buying.
I buy genealogy magazines. Photography magazines. I subscribe to a dozen decorating magazines. I buy special edition magazines.  I buy British and Canadian magazines when I've gone through all the American ones. I buy old magazines at thrift stores. The magazine I don't buy is anything having to do with food, or the making of it. Although someone once sent me a subscription to some chef magazine which Mr B took advantage of. I also buy Handyman magazine so that I can learn all about the tools I never use and offer helpful tips to Mr B while he's using those tools. And he LOVES when I do that. (I lie.) Magazines are gifts to the mind. Just sayin.
I will purge my stash…..maybe this week, although I'm pretty busy with some projects and I may need to look through my tear sheets to see what I've forgotten. But I'll purge for sure next week. Unless the weather is bad. If it's sunny and pleasant, I'll make one of my semi-regular visits to my doctor's office and donate them to be left in reception. Why is it that the offices of health care professionals only seem to have Guns and Ammo and Sport Fishing or Hot Rod?? Because women like me TAKE the decorating mags home! (with permission of course.) Or sneaky office staff make off with them. I can live with that.
One of the questions asked often enough to be addressed here was, which one is your favorite?? Hard to answer that, I have more than one favorite, but I love Country Home. I was brokenhearted when it went from a monthly publication to a special edition that comes out with no rhyme nor reason. It's beautifully photographed and keeps current with trends and changing styles. Unlike Country Sampler which is still stuck in Prim and doesn't deviate much. I did let that subscription expire and only buy their special editions, Living Simply is a recent offering. And I eagerly wait for Prairie Style which comes out twice a year. Cottage Journal is another favorite, along with American Farmhouse Style. And I love Christmas and holiday editions. I enjoy seeing what my fellow bloggers are doing in their homes and enjoy looking for ways to spruce up my holiday decor.
So, I think the question, are magazines still relevant has been answered. If you want some older editions, message me at mysuburbansanctuary@Gmail.com. I'll gladly share some with you. Free. Except for Cottage Journal and Country Home. Sorry. Those are keepers. And maybe Flea Market Style.
If you're stuck trying to figure out your style, or want some fresh ideas for creating your sanctuary, chances are I have a magazine that will help or you can just head to the news stand and pick up your very own copy.
Create your sanctuary, no matter where you live. Create the home you see in your heart.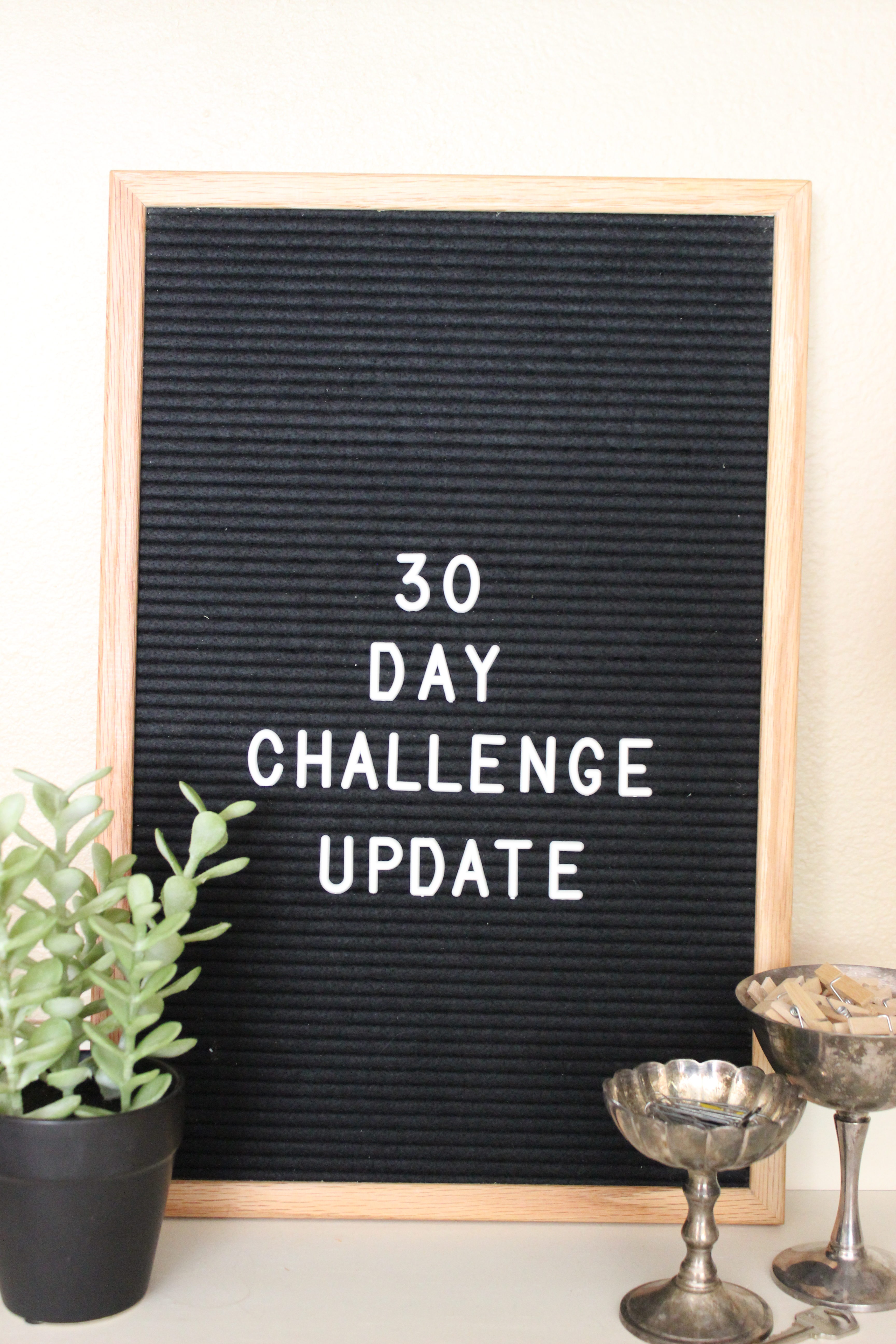 Alrighty then. I'm done with the 30 day challenge and…..wait for it……It was….not much of a challenge. Maybe I should really challenge myself, to perhaps 6 months of no shopping…..or something actually challenging.  Eek….that might be a bit much…… I'm not sure I could go 6 months without hitting an antique store. But then again, isn't that what a challenge is all about? To do something difficult? Sigh… this is a question best left to the wisdom of……. someone.
It's been fun to see what I could do around the house without adding anything new or shopping for new junk decor. And believe it or not, I'm still giving things away. What?? How can I have so much stuff when I am perpetually purging? This is a sign my friends. A sign that perhaps I have too much. Don't tell Mr B I said that. He's been telling me that forever . I would secretly roll my eyes thinking, "how can anyone have too much?" Except for those hoarder people. They clearly have too much stuff. But not great stuff like me. I have really great stuff.  But not too much……er……???
One of the areas I DO have a problem is…. throw pillows, so named because men everywhere throw them off countless sofas and beds to make room to sit or sleep on said sofas and beds. My son made fun of me for years, because as soon as he got up to leave, I would rearrange my pillows. At night, I'm in charge of getting the bed ready because Mr B has no patience with folding throws, quilts and a plethora of pillows  just to get in the bed.
I am constantly buying pillows. I have no idea why. How many pillows do I truly need? And shouldn't my sofas be welcoming and actually have space for friends to sit?? Or room for me and Mr B? Without the constant playing games of musical pillows…… moving pillows from the chairs to the sofa and back again any time we want to…..sit? So the great pillow purge is on. I have bags…. BAGS of pillows in the attic. It's ridiculous.
I am hereby declaring a moratorium on any new pillows! Now THAT'S a challenge. But I'm going to do it try to do it. I will finish making a couple of grain sack pillows that have been waiting to be finished for a year, but I already have the grainsack so it doesn't count. See how clever I am at getting around moratoriums??
Did I accomplish all I set out to do during the last 30 days? Nope.  My goals were a bit much to accomplish in 30 days in retrospect.  But I'm OK with that. I'm on track. And I will continue to do those things that were part of the challenge, um….except for the no shopping part. However, I will shop more purposefully, with a list and a vision instead of just buying anything that appeals to me.
Lily is walking a tad bit better on the leash and I'll continue working with her. She's smart and eager to please. But she's also a 6 year old rescue and a bit nutso. This will be a long term gig.
I added Audra Day, The Chainsmokers and Kendrick Lamar to my regular music rotation. And I've been listening to some artists I never appreciated before. So that's a win. I didn't get all the CD's ripped and burned to share with the Grands, that's an on-going project, I have hundreds of CD's, some they actually like. Updating my on-line music files is a bonus and I might get rid of some CD's to clear up space.  I also worked on my family tree a bit, that is also an on-going project but at least my files are neat and tidy so I can find things.
 I painted two shelves in the dining room and some frames. And I played with creating more chippy paint on some odds and ends before I try the technique on anything important. In my defense, the weather has been so rainy and/or humid I couldn't paint as much as I wanted. Plus I spent most of my time with my Granddaughter and frankly, painting and projects could wait. The time with her is precious and since she's older I might not get the opportunity as often. My oldest Grand has already curtailed her visits due to college and a job. It won't be long until the younger one does the same. So when either one of them is here, time just sort of revolves around them.  And that's as it should be. Time spent with two of my loves is time well spent.
The shelves were a quick, one day project. There wasn't anything wrong with them, I was just tired of the stain and wanted a different look. (There's a big surprise.)  I like them better white. And I completed a small shutter that had been lying around. That's about it since my last update. I'm content with the projects I completed. And totally OK without shopping. I may do it again. Just to clear my head and keep my priorities straight. I also cut back on social media to avoid temptation. Another plus that allowed the time to catch up on reading. I'll list the books in a future post.
I made a master list, room by room, of all the major and minor projects I would like to complete by the end of this year. (When I say I…..picture Mr B). This requires some cooperation and coordination with Mr B and his schedule is jam packed with trips, his singing gigs and of course, golf.  Projects must be scheduled around all that. We're going to be completing projects in the kitchen and the guest room that have been in the works for awhile. I'm so excited! And the search is on for a console in preparation for a new TV and upgraded sound system. Oh yes! I love me some big TV and we desperately need I want a sound system that wasn't designed in the 90's. It's past time for an upgrade. More on that front later.
So that's it. My 30 day challenge is over. Let the shopping begin! Just kidding. But I do have plans to rearrange some furniture and who knows where that will lead?? Thanks for coming along on my  our journey to update our home. I'm creating my our sanctuary one room at a time. I'm creating the home I see in my heart. Mr B says my heart needs new glasses, but I like my vision just fine.
Love where you live. Create your sanctuary. One room at a time.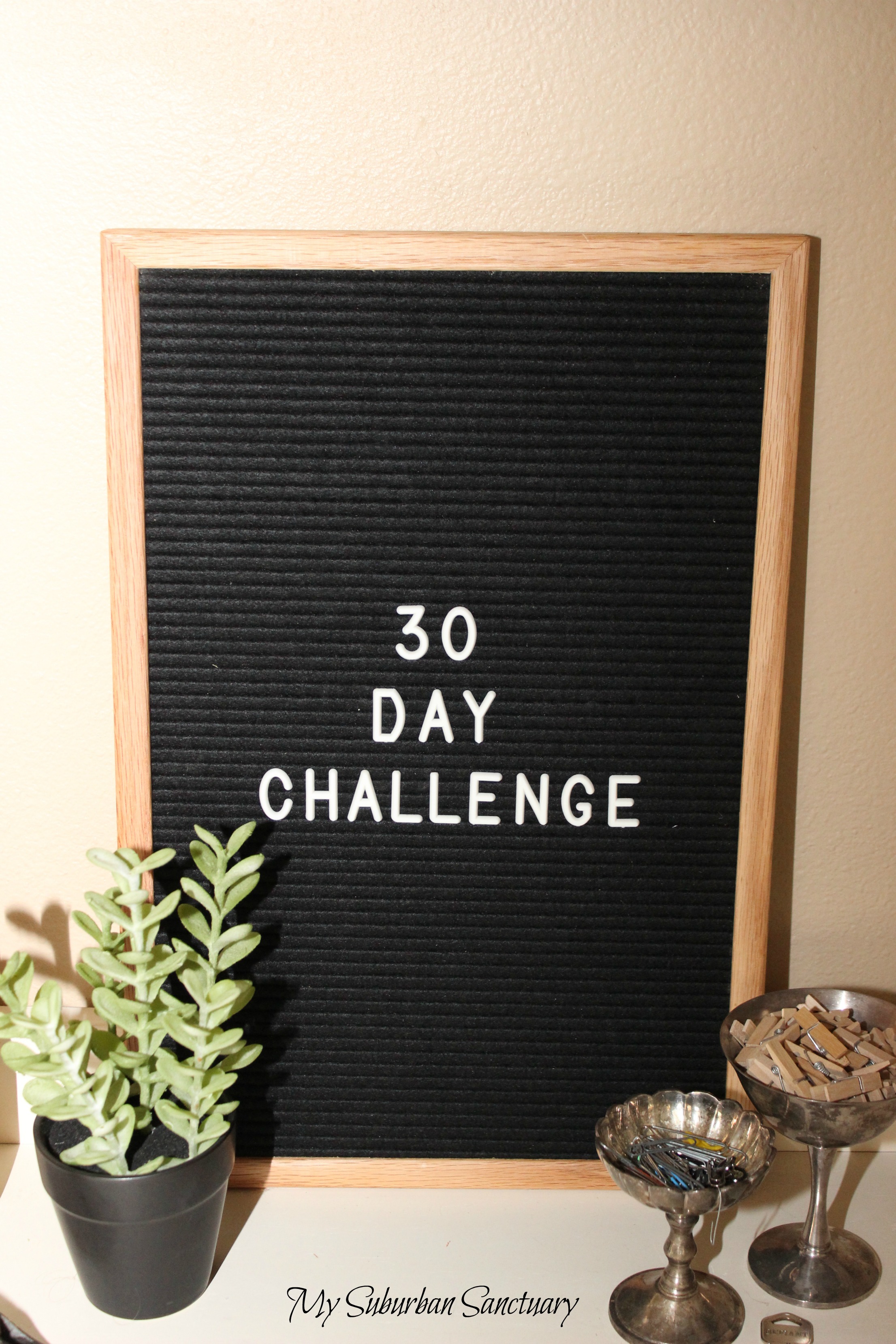 I've given myself a 30 day challenge and I'm going on a diet. A shopping diet. After returning from the Tennessee trip to celebrate my good friend's birthday  go shopping recently, I realized I have a huge slight problem with shopping and bringing home things I have no space for. Decorating and design are my jam, ain't gonna lie. A junk store is my happy place, shopping is  therapeutic. BUT when I come home with NO money left and piles of things I "HAD TO HAVE" but have no space in which to put a.single.thing…. It's a problem that leads to buyers remorse and negates the therapeutic part. It's actually stressful. So I've challenged myself to 30 days of no shopping. NOTE…this diet pertains only to shopping for the house. Food (I like to eat), personal hygiene items (I enjoy being clean and sweet smelling), and clothing ( I must have shoes and clothes, the alternative would be frightening), are exempt. Just want to be clear. I also apologize for the awful photos in this post. No excuses, they're just bad.
No fabulous junk, no great vintage pieces, no more wonderful old stuff. In the next 30 days I must use whatever I have stashed in the attic or closets to change up my look. I will finish projects growing mold waiting patiently in the garage and attic with materials we have on hand. OK…. if Mr B needs supplies to finish those projects he's exempt from the shopping diet. (Mr B, if you're reading this….. we need beadboard). He'll have no problem sticking to the plan, he already said I'll never make it 30 days. HA! I'll show him! I have will power! (No, I don't……. Is will power something I can buy??? Where? Does Amazon carry it? I have Amazon Prime!) I  am determined to find will power. I may need help.
In the next 30 days I'm not only going to stop shopping, I'm going to spend some time catching up with my dead relatives on Ancestry.com. I'm going to hunt my history. I've neglected my ancestors and they have stories that need to be told. Some are still waiting to be found. I want to find them and help tell their stories as well.
In the next 30 days I'm going to catch up on reading. I have a pile of books beckoning with stories of far away places,  murders to be solved and all manner of mayhem to prevent.
In the next 30 days I'm finally going to teach Lily, our second rescue furbaby to walk properly on a leash.
In the next 30 days I'm going to add to my music library, rip and burn some CDs to share with the Grands, listen to some music I normally don't listen to….. and find at least one new artist to love.
In the next 30 days I'm going to spend some time organizing my 20,000 photos.
Yep, the next 30 days are gonna be BUSY. BUT I WILL.NOT.SHOP.
I'll keep you posted with my  extremely successful  what-am-I-thinking-30 day challenge. I'm confident hopeful I can do this.  If you hear the faint sounds of  laughter coming from Central Florida it will be Mr B…. who is convinced I will fold and head to the shops within a week, like a dog searching for its buried bones. But I am WOMAN. Hear me ROAR….. in my case it may very well be the sound of piteous whimpering.
Create your sanctuary no matter where you live.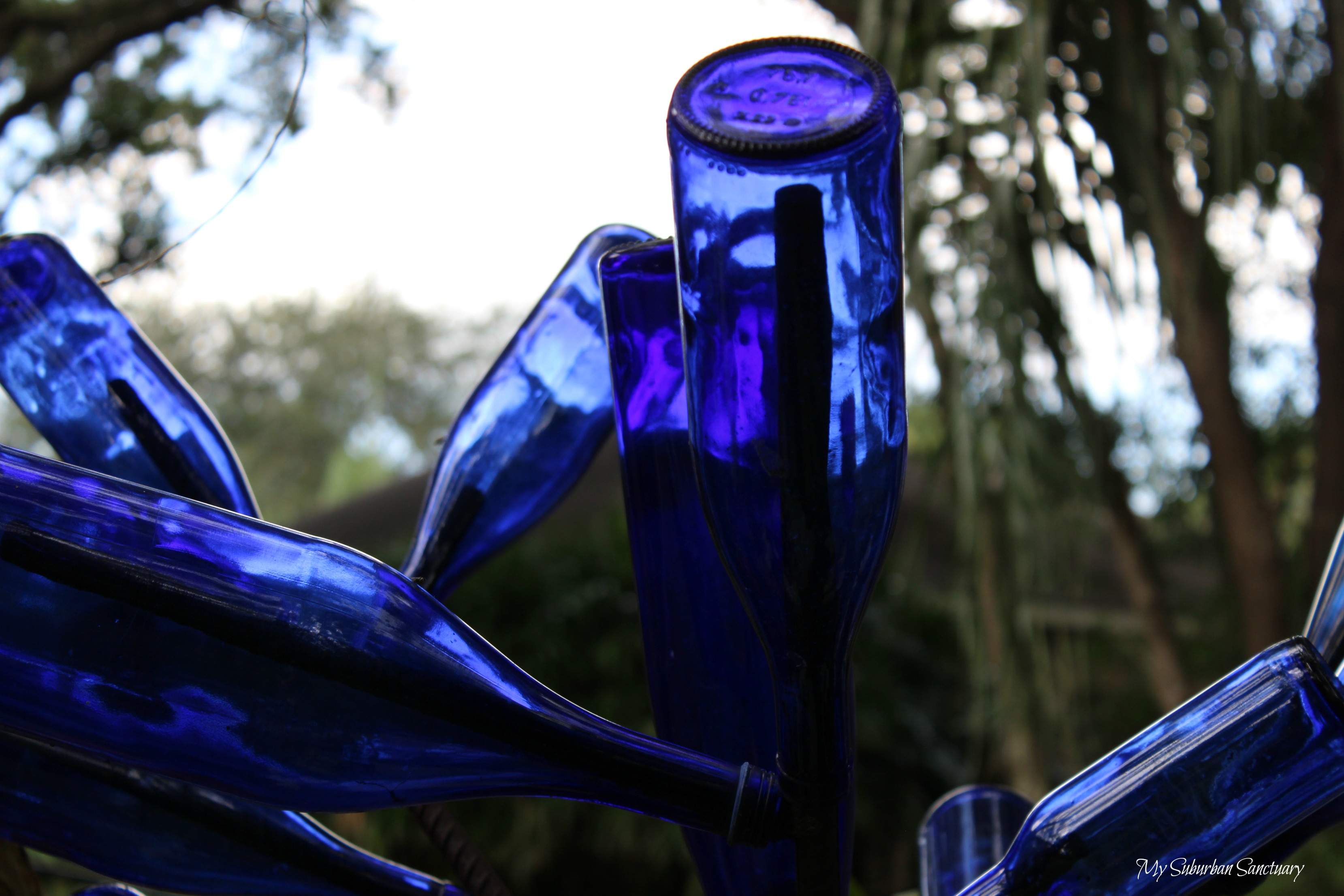 We Southerners take our traditions seriously. And even though I am a yankee transplant I adopted a couple of those traditions as my own. If you drive far enough into the south you are likely to see one, or more bottle trees. Bottle trees are one of those things that northerners don't "get." Oh, they like them, they may even attempt one in their own gardens, but in the south a bottle tree is a necessity. Because. They capture bad spirits. Genies, and imps who want to cause problems. It's true! I have a bottle tree in my back yard and I have yet to see a bad spirit, genie or imp in my home. So there. Proof positive these trees work!
The practice began in the ninth century in the Congo according to historians, and since I don't know anyone from the ninth century to ask….well, I have to believe the historians know what they are talking about. Or maybe they have a direct line to the ninth century. Anyway….. Central African people believed that they could capture imps and bad spirits in glass bottles and began hanging bottles in trees to attract the spirits and trap them before they could enter their homes. The practice  was taken to Europe and North America and the Caribbean islands by slaves and over the years became embedded in the south.
The Smithsonian  says, "Bottle Trees have a long history as an element of spiritual, cultural and aesthetic significance in American History and garden design." WOW! Who knew? Mr B says it's just another way for me to add junk to the yard and advertise to the neighbors that we may have a drinking problem. Let me just say up front that I have no problem, zero…. with drinking and some of the nastiest tasting wines come out of the prettiest bottles. Make of that what you will.
Legend says that the bright colors attract the spirits and when they enter the bottle they can't get out. Makes perfect sense…..I can't get IN a bottle, much less get out of one. I have enough  trouble getting in and out of my jeans. HOWEVER…… once trapped inside the bottle sunlight fries the little pranksters before they can do harm. Good thing, I'm not sure I'd want any mess making imps in my home….I still remember the Grands when they were toddlers….. I never thought about trapping them in bottles…………I did, however threaten to send them to "Hell Western Crooked," a place my Grams always threatened to send me. It sounded like a very bad place and I never, ever wanted to go there. Glad she didn't have a bottle tree….. Just sayin.
You can purchase pre-made bottle trees from on-line sites or through many  local garden centers (if you live in the south). You can also add individual bottles to your garden just by sinking a length of rebar in the ground. You can find rebar in the building section of Home Depot or Lowes. If you don't know what rebar is, just ask one of the friendly associates.  Or use any sturdy metal rod, copper works well and has the added bonus of developing patina with time. (Make sure your metal rods are a smaller diameter than your bottle opening.) You can suspend the bottles from your tree branches by tying them with sturdy twine around the neck of the bottles.  A glob of glue for outdoor projects will hold the twine around the neck of the bottle. For the record, I do not recommend  pruning tree limbs and placing the bottles on the end of the branches. It causes unnecessary trauma to the tree and improper pruning may actually kill your tree. Just stick with a pre-made one. Unless you have a sturdy dead tree (Is that an oxymoron?) Then prune away and add bottles to your heart's content.
Author Eudora Welty (1909-2001) made the southern bottle tree famous in her short story, "Livvie."
"Coming around up the path from the deep cut of the Natchez Trace below was a line of bare Crape Myrtle trees with every branch ending in a colored bottle, green or blue. There was no word that fell from Solomon's lips to say what they were there for, but Livvie knew there could be a spell put on trees and she was familiar from the time she was born with the way bottle trees kept evil form coming into the house… Solomon had made the bottle trees with his own hands over the nine years, in labor amounting to about a tree a year, and without a sign that he had any uneasiness in his heart,  for he took as much pride in his precautions against spirits entering the house as he took in the house…."
Special note: Clean your bottles before using them in the garden. You don't need drunken bees hurtling around. They like wine. You won't like tipsy bees.
If you want to protect your home and take the necessary  precautions to catch evil spirits, make a bottle tree. You don't have to become a wine-o. Just do what I did, ask your neighbors to drink the wine and save the bottles for you. They'll be happy to help. Trust me.
Create the home you see in your heart. You deserve a sanctuary, no matter where you live.